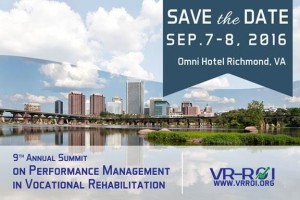 Registration is now open for the 2016 Annual Summit on Performance Management in Vocational Rehabilitation.  The VR ROI (Vocational Rehabilitation Return on Investment) Project, Virginia DARS and Virginia DBVI will be hosting the Summit this year from Wednesday, September 7 to Thursday, September 8th.  We look forward to welcoming you to Richmond, Virginia and sharing professional development opportunities, as well as some of the sights from our beautiful city.   Please visit https://www.regonline.com/VRSummit2016 for additional information.  See you in September!
---
The Summit Group:
Performance Management
in Vocational Rehabilitation

 
The Summit Group is a community of practice committed to the professional education and training of Vocational Rehabilitation Program Evaluators and to the improvement of performance management within state vocational rehabilitation agencies.
---

Monthly News
– Summit 2016 Presentations added under the "Training" tab. (12 September 2016)
– New Job Post added to the Employment Opportunities Section. (12 September 2016)
– Inquiry Responses posted to the Inquiries page, under "Policies". (27 August 2016)
– New Job Post added to the Employment Opportunities Section. (16 August 2016)
– One new Inquiry posted to the Inquiries page. (8 August 2016)
– New Job Post added to the Employment Opportunities Section. (4 August 2016)
– New Job Post added to the Employment Opportunities Section. (12 July 2016)
– New Job Post added to the Employment Opportunities Section. (7 July 2016)
– New section added under the Resources tab, called Reading, with an added infographic. (7 July 2016)
PEQA Competencies Brief (03-03-16)
---
Click Here to submit a new inquiry for the Vocational Rehab Professional Knowledge Base