The Summit Group:
Performance Management
in Vocational Rehabilitation

 
The Summit Group is a community of practice committed to the professional education and training of Vocational Rehabilitation Program Evaluators and to the improvement of performance management within state vocational rehabilitation agencies.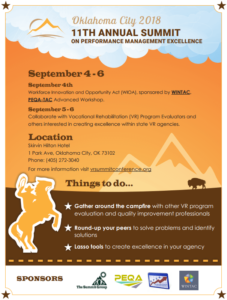 Click on the above flyer for information about the 11th Annual Summit!

Also, click to answer the Call for Proposals and visit the Website!
---

What's New with the Summit Group

– One new Inquiry posted to the Inquiries page. (19 Feb 2018)
– Inquiry Responses posted to the Inquiries page, under "Caseload Management". (19 Feb 2018)
– One new Inquiry posted to the Inquiries page. (1 Feb 2018)
– Inquiry Responses posted to the Inquiries page, under "Workforce Innovation and Opportunity Act". (1 Feb 2018)
– Inquiry Responses posted to the Inquiries page, under "Technology". (1 Feb 2018)
– Inquiry Responses posted to the Inquiries page, under "Social Media". (19 Jan 2018)
– Three new Inquiries posted to the Inquiries page. (1 Jan 2018)
– One new Inquiry posted to the Inquiries page. (11 Dec 2017)
– Summit Group Community Forum added under the "Communication" menu tab. (3 Dec 2017)
– One new Job Post added to the Employment Opportunities Section. (25 Nov 2017)
– New document added under the Resources tab, under "2017 Performance Management for State Vocational Rehabilitation Agencies Serving Transition-Aged Youth". (23 Nov 2017)
– One new Inquiry posted to the Inquiries page. (11 October 2017)
– One new Inquiry posted to the Inquiries page. (20 September 2017)
– One new  Job Post added to the Employment Opportunities Section. (23 July 2017)
– One new Job Post added to the Employment Opportunities Section. (16 July 2017)
– Louisiana State Plan uploaded to Combined/Unified State Plans under the "WIOA Resources" menu item. (16 July 2017)
– Two new Job Posts added to the Employment Opportunities Section. (22 June 2017)
– Inquiry Responses posted to the Inquiries page, under "Client Surveys". (22 June 2017)
– One new Inquiry posted to the Inquiries page. (19 May 2017)
– Inquiry Responses posted to the Inquiries page, under "Policies". (19 May 2017)
– One new Inquiry posted to the Inquiries page. (30 April 2017)
– The RPEN Newsletter has been added to the website, under "RPEN". (30 April 2017)
---
Click Here to submit a new inquiry for the Vocational Rehab Professional Knowledge Base